Welcome !
Gentle, skilled childcare

My name is Ottilia Becker – I am a certified pedagogical educated daycare mother offering your child safety and domestic environment.
My husband is a daycare father with equal education and certificate, he assists when required.
All of our capacity is in use right now.
2824 Seebenstein Tel. +43 (0)2627 47650 oder +43 (0)664 7306 1854 Email: ottiliabecker@gmail.com
Your very personal daycare parents
We pick up your child from (nursery) school, cook a nice, healthy meal and are supporting with their homework.
We are both multilingual, and gladly willing to inform you !
Adjusted to the abilities and wisches of children
In our spare time we like to tinker, play and are occupied with outdoor experiences. We live within a large garden at the edge of the forest. Many arts of birds but also squirrel are our daily pleasure!
Important to us
Since July 2014 we are cooperating with Austria's Agency for Help (www.hilfswerk.at). As daycare parents, we have acquired a comprehensive pedagogical education, we are continuously training further and regularly assisted with professional know-how.
Living and growing with children means to us:
to accept and respect them in their individuality,
to promote their development,
to offer their urge to move enough opportunity,
to sing and read together,
to feed them with nutricious food.
We are looking forward to our time together!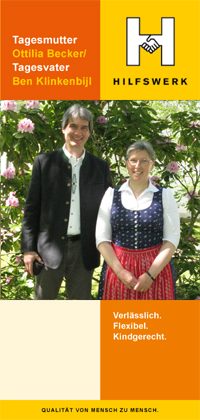 Impressum